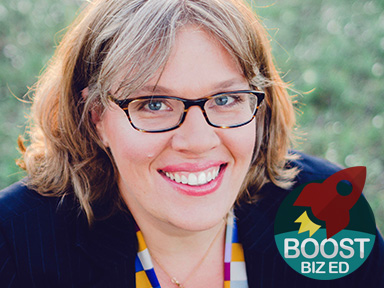 Amy Simpkins is a coach, international speaker, and vision architect for business owners and professionals. She is on a mission to help you intentionally design fulfilling, high-impact work that leverages your natural cycles of ebb and flow.
As an MIT-trained engineer, Ms. Simpkins architected complex missions to outer space. Now she's applying those proven design methodologies and big-picture mindset, infusing them with a heaping side of intuition and soul, and putting it all to work to get you the clarity, confidence, and momentum you need to thrive. She geeks out about Design Thinking and Iterative Development, spirals are her favorite shape, and she loves seeing patterns emerge in seemingly unrelated subjects.
Ms. Simpkins holds a Bachelor of Science degree in Aeronautics and Astronautics from Massachusetts Institute of Technology (MIT) and a Master of Science degree in Astronautical Engineering from the University of Southern California.
Special Offers
Past BBE Events (1)
Presenting Ally (1)
@/amylsimpkins
Latest Tweets
Sorry, that page does not exist.