5 Keys to a Knock-out Presentation
Wed, Aug 6, 2014 | 9:30 – 11am
Event Description
Let's face it, we are sick of bad presentations. We are sick of 20 bullet-points on one slide. Sick of people saying there presentation will be fun and then they kill us by reading their first three slides. You don't have to be a PowerPoint or Prezi genius to impact your audience. So? How do you create a killer presentation? Learn the five ways to create a killer presentation.
What other are say: Your presentation was awesome! It turned on the lights in that dark antiquated part of my brain! Before it felt like pulling teeth without anesthesia to sit down to work in PowerPoint. Now, I'm so excited to create my next presentation deck! — Barbara Crawford, Founder, Emotional Self Sufficiency.
Guests Learned
You will think more like a designer.
You will be able to create presentations faster.
You will design slides with more impact.
Most of all, your presentations will become more memorable.
Boost Biz Ed DTC is hosted by
Boost Biz Ed
39.60802000000001
-104.89076999999997
Jewell Insurance
Jewell Insurance
8480 East Orchard Road, Greenwood Vlg, CO, 80111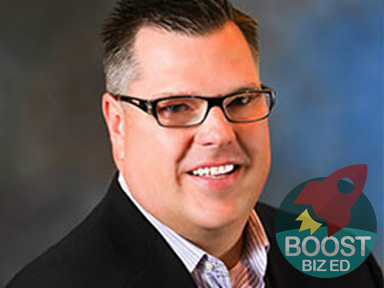 About Paul
Paul Vorreiter is a presentation expert and designer with over two decades of graphic design, branding and marketing experience. He speaks and teaches workshops on creating better presentations using powerful but simple-to-learn techniques that take presentations from okay to outstanding. Paul works with Nationally-known Keynote Speakers, C-Level Executives and Non-profit Organizations and helps them transform their presentations.
Help Small Biz in DTC Change the World Action by Action!
Please Help Us Promote This Workshop and All Boost Biz Ed DTC Events
Share any of these links, in addition to this page.
Use any of these resources to promote.
Print these flyers and distribute wherever you work and network.
Forward our emails to business colleagues.