Breakthrough Business Mastery Bootcamp
Fri, Jan 26, 2018 | 8:00 am – 7:00 pm
Event Description
THREE DAY EVENT!
Breakthrough Business Mastery Bootcamp
Is a Three-day High Energy Life-changing Event!
When You attend Gary's Bootcamp, you'll ─
Create a Personal and Business Vision to catapult YOU to your next level of success!
Receive the 3 Keys for Success in Any Business!
Become a Master Networker
Personalize Gary's "Three Magic Words" to create immediate interest in YOUR business!
Identify the roadblocks that are blocking your success — and eliminate them!
Develop your personal P.I.N.O.T. Time Management plan that will make you more money faster and give you more free time!
Create a Marketing Plan that will Elevate and Separate Your Brand so you attract your ideal clients!
Expand Your Presentation & Communication Skills for Fast Connections!
Receive Bonus #1
Board Breaking Experience ─ you'll break an actual wood board! What you'll learn by doing this will help you break through barriers in your business and your life!
Receive Bonus #2
Schedule Your 20 minute business coaching session with Gary Barnes. This priceless time with Gary will give you amazing insight into your own business and life ─ and how to turn your vision ….. into reality!
Receive Bonus #3
Guest Membership into the VIP Group Coaching Club from now until the Bootcamp!
2 teleconferences per month
The second teleconference of the month is an open Q&A call where you'll be able to ask Gary your specific questions either live on the call or by submitting your questions via e-mail.
MP3 recordings of the teleconferences
303-915-3025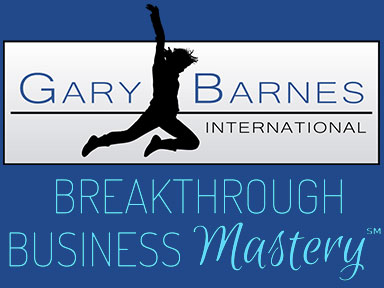 Gary Barnes International
About Gary
Gary Barnes is "The Breakthrough Business Mastery Coach". He is a high-performance business and sales coach, popular international speaker & Award winning #1 International Amazon best-selling author (6 books). Gary's clients span over 7 countries and he has been featured on ABC, CBS, NBC & Fox, PBS and TEDx.
He is the founder of Gary Barnes International. He has created 3 successful businesses from the ground up.
Married over 40 years to his wife Sharon, with adult sons, he has completed a world class 40-foot firewalk, flown a World War II P-51 fighter, flown on a trapeze, driven in a Destruction Derby (his car was the Purple Passion); completed a 75foot bungee jump; and climbed 14K foot mountains. He's a drummer and a Police Academy Graduate.
He also understands dealing with adversity-he has fought a life-threatening illness & won. Gary was diagnosed with multiple sclerosis in 1988 and was told he would be dead or in a wheelchair within 10 years. He believes that your worst day is the day you meet the man or woman you could have been. It's a choice.
@garybarnesmax
Latest Tweets



Help Small Biz in Denver Rise Action by Action!
Please Help Us Promote This Workshop and All Boost Biz Ed Denver Events
Share any of these links, in addition to this page.
Use any of these resources to promote.
Print these flyers and distribute wherever you work and network.
Forward our emails to business colleagues.