Business Accelerator Summit Experience
An Epic 3 Days of Extraordinary Business Training for Coaches
Tue, Oct 17, 2017 |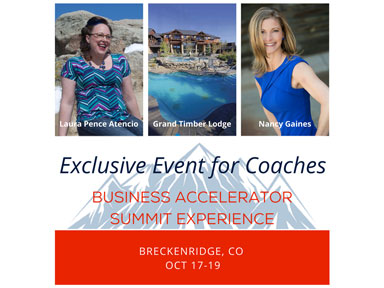 What is this event?
Event Decription
In this exclusive workshop you will learn to take control of your financial future. By applying the secrets of proven business and marketing systems to take your business to the next level you can have your best launch, yet and impact more people without burning yourself out…
Accelerate your results by 3-6 months because this is a 'done with you' event. You do the work AT the summit and leave with real results.
Create your tactical marketing and product launch plans so you can know exactly what to do each day to grow your business.
Learn how YOU can work less and get your BUSINESS to work more by implementing the most effective systems in 5 key functional areas.
Get laser-focused speed consulting personalized for YOUR business on your specific challenges so you leave with solutions that work for you.
Other events give you ideas and then leave you to guess how to implement …
Many of our clients come to us straight from other programs where they were introduced to fantastic ideas and high level information… and then asked to make another significant investment to get the step by step answers for execution.
We have experienced this very same frustration when attending events in the past… the information provided was either too high level to implement without buying into another, more expensive program or the strategies given simply weren't of high value. It's been hard to find the right mix of strategic planning and practical application to grow our companies.
​We believe that fluff is the stuff that goes into pillows, not business workshops! We understand the frustration of wanting to get the best results now, without buying into yet another coaching program with vague instructions and a huge up-sell at the end.
You MUST attend if….
You are a Coach (life, business, relationship, fitness, leadership, or similar)
You are a Speaker (established, local, or ready to get started)
You are an Author (published, nearly published, or ready to get your book on paper)
You are a Business Owner who is ready to get plenty of new clients to serve and support
You are an Entrepreneur who is looking to fast track your business results instead of slogging through solo
You are ready to take action and are excited to take action on the proven path to accelerate your results
This is not for you if….
You want to keep doing "business as usual" in the coaching industry
You are working long hours at the expense of your health and relationships and you don't want to change
Think you already know all the answers and are unwilling to learn from other people
You are coaching others, but are un-coachable yourself
You are not willing to make 'fun' a core value of this 3 day event
Where is this event?
75 Snowflake Drive
,
Breckenridge
,
CO
80424
Boost Biz Ed
Grand Timber Lodge
Grand Timber Lodge
75 Snowflake Drive, Breckenridge, CO 80424