Old Folks Really Learned Me Sales
Selling a Different Way in Today's World!
Thu, Mar 22, 2018 | 4 – 5:30pm PST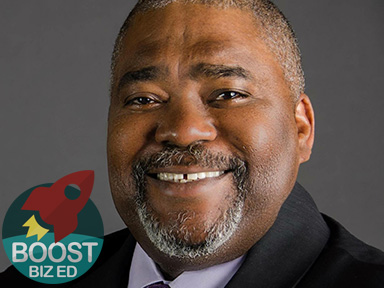 What is Boost Biz Ed?
Boost Biz Ed is both a networking event and educational event inspired the conviction that small business has the unique opportunity to change the world.
Boost Biz Ed fuels world changers by tapping proven business experts, drawing out transformative insights, and presenting them in a format for easy consumption and intention for immediate action.
How is this event special?
Event Decription
In today's pressure-filled world of sales goals and deadlines, I started a commission-only insurance agency and I have been having the time of my life!
I am going to share a a few of the things I learned that turned my early failures in the Senior market into a growing business in 14 states!
Who should come?
Commissioned Sales People or Sales Trainers in any market!
How will it change their world?
A departure from the traditional sales techniques we ALL learned in our sales training!
How will it alter their perspective?
Participants will be exposed to a different way of working with current and prospective clients!
What makes you uniquely qualified with your expertise?
I live what I share every day.
What will the presentation be like?
Very interactive! I will have soft tools for people to use during and after the meeting.
How can they come the most prepared for the highest outcome?
Bring a list of their top three products, be open-minded to new ideas, prepare to share a failure and a success.
Who else should they invite?
Sales and customer service representatives.
How will I be empowered to action?
Action Points
Your Markets: Know it! Celebrate it!
Your Product: Let's talk about 3 things!
Your Needs: Discovering the Intersection!
Your Talent: Recruit Your Weaknesses!
Where is this event?
Boost Biz Ed Oregon is generously hosted by
421 Water Ave NE Suite 2300
,
Albany
,
OR
97321
Boost Biz Ed
LoanStar Home Lending
LoanStar Home Lending
421 Water Ave NE Suite 2300, Albany, OR 97321