The Path of the Hero!
How to Overcome & Accomplish Literally Anything You Desire
Fri, Oct 19, 2018 | 9:30 – 11am MST
What should I expect?
Discover how to overcome obstacles that sabotage your success, freedom, and joy in life. You'll also learn & understand the various levels of competency & self-care that have the power to rescue you from anything that holds you back & lead to you to self-mastery in literally anything you desire!
How will I be empowered?
The Science of Change & Evolution
Why Self-Care Matters
The Path of the Hero
The 4 Keys to Maximizing Your Success
Boost Biz Ed DTC is hosted by
Boost Biz Ed
Innovation Pavilion
Innovation Pavilion
9200 E Mineral Ave, Centennial, CO, 80112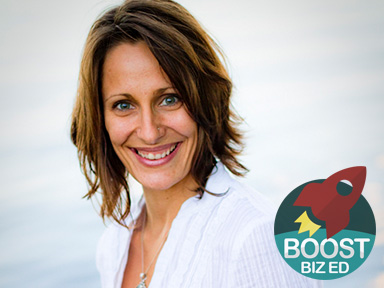 Who is this Jess Bonasso?
Jess Bonasso has been a burnout rescue & prevention coach, author, & keynote speaker for close to 11 years.
Having experienced burnout in both her 13 ½ year corporate career & as a heart-centered entrepreneur, her definition of success & quest for productivity zapped her radiance, destroyed her joy, sabotaged her success, and ultimately led her to burnout.
Fortunately, it also led to a spiritual awakening & she has since learned over the years how to save herself from burnout!
As a result of her experience, she's become affectionately known as The Self Care Goddess over the years & has created The Burnout Rescue! a powerful & proven 6-part hero's guide that teaches worn out wonder women who save & serve others in business, health, & finance how to rescue themselves from the cellular root cause of any self-sabotage that leads to burnout or breakdown.
She is also an accredited practitioner of The Journey Method®, a highly effective form of cellular memory release therapy that has the power to resolve the cellular root cause of any emotional, physical, mental, or financial self-sabotage that you might be struggling with.
Because of her experience with burnout & her passion for personal empowerment, Jess is now on a mission to awaken & strengthen the hero within every woman on the face of the planet so they can heal core wounds at the cellular level, reclaim their strength, & embrace their inner power without self-sacrifice!
Why should I trust Jess?
I have been in business for close to 11 years now & have established a name for myself throughout the Denver metro area as a burnout rescue coach & professional speaker. I know a lot of entrepreneurs in the area because I have been part of both the South Denver Metro & Women's Chamber of Commerce, Women of Denver, Wildly Successful Women, & Women, Wine, & Wellness over the years. I also have my own meetup group with over 200 members & am personally & professionally active on Facebook, Twitter, YouTube, or LinkedIn. For every presentation that I offer, I promote the event in my monthly newsletter which goes out to close to 1100 subscribers, I post on social media at least 2 weeks in advance on both my personal & professional pages, & I also add it as event to my meetup group. If you have a Facebook event that you create, I am also happy to invite, share & promote that event with others as well!
Help Small Biz in DTC Change the World Action by Action!
Please Help Us Promote This Workshop and All Boost Biz Ed DTC Events
Share any of these links, in addition to this page.

Eventbrite:
Meetup:
Facebook:
Use any of these resources to promote.
Print these flyers and distribute wherever you work and network.
Forward our emails to business colleagues.