The Truth about Branding
How to Make More Money by Leveraging Your Reputation
Fri, Mar 2, 2018 | 9:30 – 11am
Event Description
Many people seldom realize their brand is being created every day — with or without them. Everyone has a brand (personal or business), even if they haven't been purposeful in creating one.
Signs you should get yourself to this workshop:
You're doing random acts of marketing with no plan in place.
You've been in business for years, but no one's heard of you.
Business is stagnant; you can't put your finger on what's wrong.
You're stressed from lack of gains and missed opportunities.
Take time now to understand how a strong brand leads to higher sales and astonishing success.
Learn the five keys to a strong brand and how they apply to your business or personal brand. Recommended for entrepreneurs, business owners and marketers. Get unstuck, gain back momentum and think more creatively about your company.
Guests Learned
We will explore three common branding blocks and how to overcome them.
You'll discover why Core Values determine things like: how you market, who you market to, and even which services you offer.
Learn how narrowing your target market can bring you more business than ever.
Boost Biz Ed DTC is hosted by
Boost Biz Ed
Innovation Pavilion
Innovation Pavilion
9200 E Mineral Ave, Centennial, CO, 80112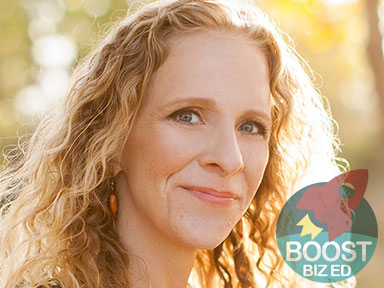 About Emilie
Emilie Downs, owner of Imago Visual, is a 'brand doctor'. She utilizes a process of probing questions that reveal the 'why' behind the business, allowing companies to clarify their brand and message. This process develops a brand in a strategic way, rather than relying on random or faddish marketing activities to grow a business. Her clients are able to move beyond business categories to tell their story, resulting in clarity for their business, employees and customers. She loves the "Ah-ha!" moment that occurs when owners discover their individual truths.
Emilie is passionate about creativity as a highly effective way to problem-solve and innovate in the workplace. She breaks through the myth that only some people are creative. Emilie spent the early part of her career as a designer and art director. It was during this time she discovered business owners often have trouble conveying their unique message, leading her to form Imago Visual in 2008. She is an award-winning author and her designs have been featured in HOW and Print design journals. She is sought after as a speaker and authority on branding and creativity.
@emiliedowns
Help Small Biz in DTC Change the World Action by Action!
Please Help Us Promote This Workshop and All Boost Biz Ed DTC Events
Share any of these links, in addition to this page.

Eventbrite:
Meetup:
Facebook:
Use any of these resources to promote.
Print these flyers and distribute wherever you work and network.
Forward our emails to business colleagues.