3 Big Branding Mistakes Destroying Your Profits
& How to Fix Them Now
Wed, Jun 7, 2017 | 9:30 – 11am
Description
I've had well meaning entrepreneurs tell me, "As soon as my business is on it's feet, I will have time for branding." Little do they know their brand is being created every day—with or without them. Everyone has a brand, even if you haven't been purposeful in creating one.
Wondering if your brand reputation has gotten away from you?
Having trouble looking different from your competitors?
Frustrated by missed opportunities and lack of revenue?
Take time now to understand how a strong brand can impact you and your business in a big way!
Come and Learn
Brand on purpose, not by default
Find your niche and serve your ideal client
Maintain consistency in marketing your brand
Have FUN with your business
SPACES Denver-Ballpark
SPACES Denver-Ballpark
2301 Blake Street, Denver, CO 80205
Easily accessed from I-25 or I-70. IMPORTANT: Enter building on Park Avenue. Best parking is on Blake. Free 2-hour spots on one side, metered parking on the other. Do not park in the Scientology lot or in the reserved lot behind the building. $5 all-day lot across the street, Rockies game days excluded. We meet in the club lounge.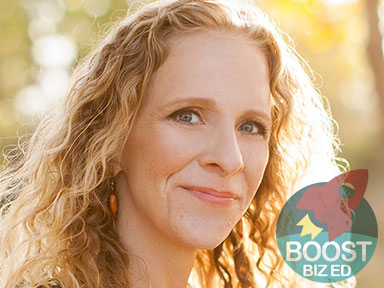 About Emilie
Emilie Downs, owner of Imago Visual, is a 'brand doctor'. She utilizes a process of probing questions that reveal the 'why' behind the business, allowing companies to clarify their brand and message. This process develops a brand in a strategic way, rather than relying on random or faddish marketing activities to grow a business. Her clients are able to move beyond business categories to tell their story, resulting in clarity for their business, employees and customers. She loves the "Ah-ha!" moment that occurs when owners discover their individual truths.
Emilie is passionate about creativity as a highly effective way to problem-solve and innovate in the workplace. She breaks through the myth that only some people are creative. Emilie spent the early part of her career as a designer and art director. It was during this time she discovered business owners often have trouble conveying their unique message, leading her to form Imago Visual in 2008. She is an award-winning author and her designs have been featured in HOW and Print design journals. She is sought after as a speaker and authority on branding and creativity.
@emiliedowns
Latest Tweets



Have Marketing or Branding questions? I'll have answers. March 28th, 12pm - 1:30, FREE! Hope you can make it!…
https://t.co/2eVhqBcjbS
&nbsp
Other Boost Biz Ed Workshops