Collaboration for Assured, Mutual Success
Wed, Jul 11, 2012 | 9:30 – 11am
Event Description
With the shift in today's business world from the Industrial Age to the Digital Age, it will dramatically change the way we work together. Businesses that learn to harness the power of collective knowledge will soon learn that nobody is smarter or faster than anybody.
In the Digital Age, much of what we need to succeed is outside of our expertise in these continually changing markets. In order to keep up with the times, business owners need to learn new ways of getting things done on time and on budget and to create win/win/win situations for everyone involved.
This comes from the power to connect and collaborate, rather than being the power of your title.
Join us as we explore the intricacies of this modern concept.
Guests Learned
The benefits of collaborating
Different ways you collaborate
What to look for in collaborative partners
Tools needed for a successful collaboration
When to put a collaboration in writing
Boost Biz Ed DTC is hosted by
Boost Biz Ed
39.65836620231679
-104.91626753183374
Corporate Office Centers
Corporate Office Centers
4643 Ulster Street, 8th Floor, Denver, CO, 80237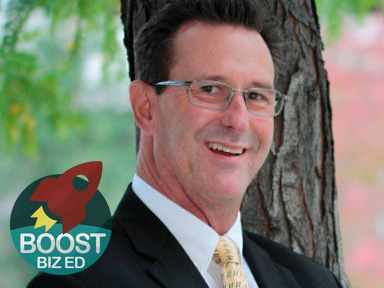 About Gary
In any relationship you either grow together, or you grow apart.
It's been said that it costs you four to six times more to find new customers than to retain them. But what if you could keep the customers you have happy and get them to grow your business?
As a certified Go-Giver Coach that is what I do for my clients. I not only teach you the philosophy of building your business based on referrals, I provide you with the system on how to do it.
That's where On Purpose Leadership can help. We coach businesses and provide them with the information, tools, resources and accountability to lift their business to the next level and beyond.
We work with companies to;
Create a culture within your company that encourages the people you serve to become your best form of advertisement generating more customers and sales.
Increase the performance of your organization by developing your staff to become leaders.
Develop a management team that focuses on replicating the desired behaviors and actions that will allow your company experience exponential growth.
Our forty five plus years of real world experience, combined with our passion for continual education means that we not only talk the talk, we walk the walk. All of our programs have been researched and applied to our company before we offered them to the public.
My partner is Mike Stanley, a Founding member and Certified Coach for the John Maxwell Team. Mike not only teaches leadership philosophy his lives it every day as a Captain on the Aurora Fire Department. He has traveled all over the world teaching leadership.
Whether you are an individual, a department, or an entire company, your success depends on the level of drive, focus and leadership that is brought to the tasks at hand.
@Connectwu
Latest Tweets



Help Small Biz in DTC Change the World Action by Action!
Please Help Us Promote This Workshop and All Boost Biz Ed DTC Events
Share any of these links, in addition to this page.
Use any of these resources to promote.
Print these flyers and distribute wherever you work and network.
Forward our emails to business colleagues.