Conflict - Getting to Great Results
Fri, Jun 15, 2018 | 9:30 – 11am MST
Event Description
Conflict drains the energy out of all us every day. Are you ready to have more energy and not be in the fight or flight mode? Are you ready to learn easy steps to get past the stress from the past and in the future? This talk provides easy tips for completely changing the way you look at conflict. How different could your home and work life be then? Get ready to laugh and learn.
Come and Learn
Increased understanding of self
How open-ended questions give you your power back
Why your personal values trigger your reactions
Shut up and listen, listen, listen
Boost Biz Ed DTC is hosted by
Boost Biz Ed
Innovation Pavilion
Innovation Pavilion
9200 E Mineral Ave, Centennial, CO, 80112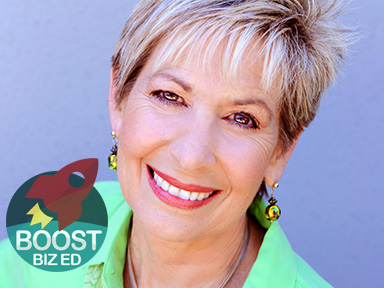 About Sherry
Sherry Ray is the President and founder of Sherry Ray Consulting specializing in helping business people stay on track without selling their soul and compromising their values. For the past seventeen years Sherry has given audiences and clients back their authentic voice, teaching them how to communicate so that they will be heard, how to really listen and to get what they want, setting them up for success.
Sherry got her first official sales job with a billion dollar corporation. She was one of the first women promoted from within the company and broke glass ceilings as she became one of the top sales people in the world for them.
Today she is a national speaker, author, trainer and certified business coach for corporations, executives, small business owners and many professionals including the Denver Bronco Alumni Association and NFL Alumni Association. Sherry has been featured on numerous radio shows, PBS and Fox TV. Sherry is passionate about helping people find their unique qualities to be the best at whatever they do.
With experience as a top national sales person, corporate manager, business owner, recruiter, Reiki (Ray-Key) Master/Teacher, race car driver, national speaker and author of, Finding Traction: Recapture Your Drive at Work. Sherry brings the business world, and hair raising fun to the party!
Sherry has a B.S. in Organization Behavior from USF and a Co-Active Coaching Certification from The Coaches Training Institute.
@sherryrayspeaks
Latest Tweets



Help Small Biz in DTC Change the World Action by Action!
Please Help Us Promote This Workshop and All Boost Biz Ed DTC Events
Share any of these links, in addition to this page.

Eventbrite:
Meetup:
Facebook:
Use any of these resources to promote.
Print these flyers and distribute wherever you work and network.
Forward our emails to business colleagues.