From Pound Signs to Hashtags
How to Seal the Deal with Different Generations
Fri, Jun 1, 2018 | 9:30 – 11am MST
Event Description
In order for businesses to thrive they have to be productive, efficient, and employ the best people to get the job done. While having best-in-class products, technology and services are key components to making this happen, how we communicate with our internal and external teams as well as our clients is crucial to drive business forward.
In "From Pound Signs to Hashtags" we will discuss the three primary generations in the workplace today—who they are, what motives them and why it's important to understand each. This presentation will review generational influencers and behavior styles, as well as introduce strategies you can implement when working with multi-generational clients to communicate at an optimum level. Once you as a sales person, consultant, account executive or business owner understand how best to communicate with each of these three generations, you will have the confidence and tools needed to close the deal for greater sales and productivity.
Come and Learn
Identify the three primary generations in today's workforce and the characteristics that each generation identifies with
Understand the influencers that impact ALL generations
Recognize generational behaviors and sources of conflict
Motivate and encourage intergenerational teams, and… close the deal!
Boost Biz Ed DTC is hosted by
Boost Biz Ed
Innovation Pavilion
Innovation Pavilion
9200 E Mineral Ave, Centennial, CO, 80112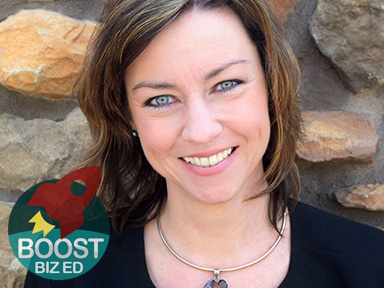 About Victoria
Victoria Gaulrapp is the creator of Drive Your Development, a firm specializing in training and leadership development. She is a speaker, trainer and curriculum developer, and believes that each new day provides a variety of learning opportunities. Victoria can trace the "why" behind her business back to the age of six, when a classroom incident ultimately accelerated her desire to provide only safe, engaging learning environments where people can thrive. After a series of corporate downsizings Victoria quickly identified the need to provide valuable, relevant professional development workshops designed to increase employee engagement and improve communication. She has more than 20 years of experience building training and motivational programs in varied industries throughout the United States, and is passionate about developing people. Her colleagues have dubbed her the "People Whisperer" for her innate ability to connect with professionals from all corporate and organizational arenas.
Victoria believes people are the driving force behind every process and every business. She specializes in soft skills which are often challenging to quantify, but are essential to any successful operation or venture. In each seminar she custom creates and delivers, Victoria provides the tools to put her clients squarely in the driver's seat of their own professional development. Victoria holds a BA in Human Communication from Arizona State University as well as numerous training certifications.
Other Boost Biz Ed Workshops
Help Small Biz in DTC Change the World Action by Action!
Please Help Us Promote This Workshop and All Boost Biz Ed DTC Events
Share any of these links, in addition to this page.
Use any of these resources to promote.
Print these flyers and distribute wherever you work and network.
Forward our emails to business colleagues.