How to Capture Elusive Success Your Way
Thu, Feb 1, 2018 | 9:30 – 11am MT
Event Description
As professionals seeking success, we often seek the advice of others in our industry.
This can be detrimental, especially if we try to do things exactly as they have. Each path to success should be unique, but what is yours?
This talk will give you tips to research your own path to success, and the conviction to follow it.
Come and Learn
How to determine your natural skills so you can customize your path to success
How to identify your passions, so you can align your goals with them to ensure endurance and success
How to discover your purpose to ensure you're on the right track, in the right career
How to infuse your career with your values, so your hard work pays you back
Boost Biz Ed DTC is hosted by
7600 Eastman Ave. Room 381
,
Denver
,
CO
80231
Boost Biz Ed
Argosy University – Denver
Argosy University – Denver
7600 Eastman Ave. Room 381, Denver, CO 80231
Third floor, room 381, Free Parking!
Being PRESENT is always best, but you can also participate virtually. Watch our Facebook page for the Live broadcast.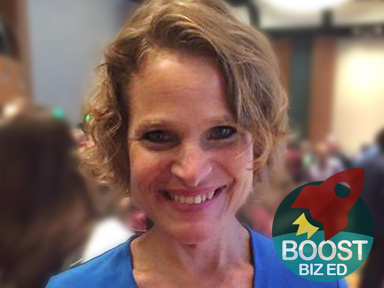 About Tammi
After 15 years of "adulting" in 3 different careers, I found myself bored and dreading more of the same.
I knew my work should be more fulfilling, so I set out to discover a career that matched my skills, while also energizing me.
I found that work in the Blueprint Process, a process I designed to do the same career work for others.
Now I work full time, taking Professionals through the Blueprint Process, who want to not only build a successful career but also desire to change the world.
I live in Corvallis, Oregon where I love kayaking, snowboarding and the ocean. I have 2 grown boys who also pursue careers that match their passions.
@instinctivelife
Latest Tweets
Help Small Biz in DTC Rise Action by Action!
Please Help Us Promote This Workshop and All Boost Biz Ed DTC Events
Print these flyers and distribute wherever you work and network.
Forward our emails to business colleagues.