How to Use Proven Systems to Win Clients
& Lose the Overwhelm
Fri, Mar 16, 2018 | 9:30 – 11am MT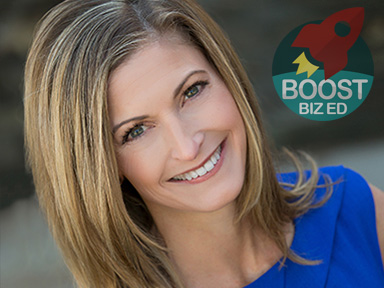 What is Boost Biz Ed?
Boost Biz Ed is both a networking event and educational event inspired the conviction that small business has the unique opportunity to change the world.
Boost Biz Ed fuels world changers by tapping proven business experts, drawing out transformative insights, and presenting them in a format for easy consumption and intention for immediate action.
How is this event special?
Event Decription
Do you feel like no one is hearing your message and success is taking way too long? Stop spinning, guessing, and struggling trying to figure it out alone. I believe your business should be simple, easy, fun, and profitable! It's time to wake up every day excited about a thriving business that you love and enjoy.
Join this session and learn how to obtain the business-building momentum you need to push through the roadblocks and elevate your success.
In this valuable talk, you will discover the proven systems to:
How will I be empowered to action?
Action Points
Know Your Targets so that you accurately define your success milestones
Know Your Route so that you follow the exact steps to reach your targets
Know Your Self so that you invest your resources on the most effective activities
Where is this event?
Boost Biz Ed DTC is generously hosted by
Boost Biz Ed
Innovation Pavilion
Innovation Pavilion
9200 E Mineral Ave, Centennial, CO, 80112