Prioritizing with Power
Fri, Nov 2, 2018 | 9:30 – 11am MST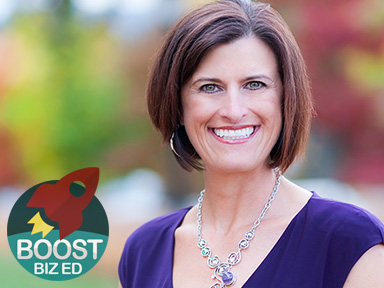 What is Boost Biz Ed?
Boost Biz Ed is both a networking event and educational event inspired the conviction that small business has the unique opportunity to change the world.
Boost Biz Ed fuels world changers by tapping proven business experts, drawing out transformative insights, and presenting them in a format for easy consumption and intention for immediate action.
How is this event special?
Event Decription
Many professionals are so busy being busy that they are in their own way, keeping themselves from reaching their goals, and not truly productive! In this talk, Julie Miller Davis addresses three ways so many professionals are too busy to get anything done and the remedies that can be put in place so that GOALS CAN BE MET and projects can be completed with excellence and less stress. Find out how much time you really have in 24 hours and how to say NO to the things coming at you all day every day and how to say YES to success and the time to make things happen! It's time to thrive rather than just survive.
How will I be empowered to action?
Action Points
Create more TIME in your daily and weekly schedule
Actually DO your To Do list
Empower your professional self through controlling your calendar
Where is this event?
Boost Biz Ed DTC is generously hosted by
Boost Biz Ed
Innovation Pavilion
Innovation Pavilion
9200 E Mineral Ave, Centennial, CO, 80112