Spiral Business Growth
Structure Your Business So You Can Grow with the Flow
Wed, Oct 11, 2017 | 9:30 – 11am
What the event was
So many entrepreneurs expect their business development to be a straightforward, linear process. Sales, marketing, and business "experts" often exacerbate this perception by offering a step-by-step system as a clear path to success. When these prescriptive systems don't work, you are left feeling stuck, frustrated, and discouraged.
Instead, learn how to embrace the cyclical, organic nature of growth. Harness the power of iteration to generate unstoppable moments and to give the business development process structure while maintaining flexibility and sustainability.
* This program doesn't give you the same cookie cutter formula that should work for everyone, it helps you uncover your own personal formula, a flexible framework that adapts to exactly what you need, when you need it, whether that's more structure and focus or more flow and innovation.
* This program is the rare opportunity to leverage deep operations and systems knowledge into a super-charged, mission-driven enterprise – alive with the possibility of real, transformative change
* This program brings order to the chaos that can be the path of entrepreneurship while maintaining your ability to be disruptively innovative and open to new opportunity
* This program leads you through the spiral path of business building with hands-on methods that can be put into practice right away, while sharing powerful insights from my own story of entrepreneurial growth and history of design integration experience.
The Spiral Business Development approach is based on proven engineering design practices used to develop the most cutting edge technologies on the planet. Put it to work for your business to jump start your confidence, focus, and clarity.
How guests were empowered
​How use a proven design paradigm to move their business forward
The one simple key to knowing what to do next with confidence and clarity
A structured process to build and test product and service offerings while generating revenue immediately
The quick two step planning system to keep their business dynamic and flexible
Boost Biz Ed Westminster is hosted by
9191 Sheridan Blvd – Ste 300
,
Westminster
,
CO
80031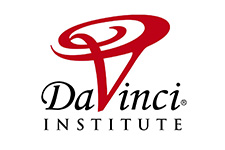 Boost Biz Ed
DaVinci Institute
DaVinci Institute
9191 Sheridan Blvd – Ste 300, Westminster, CO 80031
Park in an available spot. Find DaVinci Institute is on the third floor. Follow signs to the meeting room.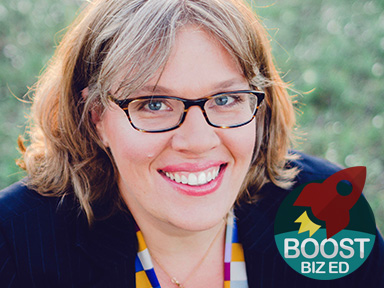 Amy Simpkins – Vision Architect
Who is this Amy Simpkins?
Amy Simpkins is a coach, international speaker, and vision architect for business owners and professionals. She is on a mission to help you intentionally design fulfilling, high-impact work that leverages your natural cycles of ebb and flow.
As an MIT-trained engineer, Ms. Simpkins architected complex missions to outer space. Now she's applying those proven design methodologies and big-picture mindset, infusing them with a heaping side of intuition and soul, and putting it all to work to get you the clarity, confidence, and momentum you need to thrive. She geeks out about Design Thinking and Iterative Development, spirals are her favorite shape, and she loves seeing patterns emerge in seemingly unrelated subjects.
Ms. Simpkins holds a Bachelor of Science degree in Aeronautics and Astronautics from Massachusetts Institute of Technology (MIT) and a Master of Science degree in Astronautical Engineering from the University of Southern California.
Special Offers
Help Small Biz in Westminster Change the World Action by Action!
Please Help Us Promote This Workshop and All Boost Biz Ed Westminster Events
Share any of these links, in addition to this page.
Use any of these resources to promote.
Print these flyers and distribute wherever you work and network.
Forward our emails to business colleagues.