Spiral Business Development
Structure your business so you can go with the flow
Wed, Oct 11, 2017 | 9:30 – 11am
Description
So many entrepreneurs expect their business development to be a straightforward, linear process. Sales, marketing, and business "experts" often exacerbate this perception by offering a step-by-step system as a clear path to success. When these prescriptive systems don't work, you are left feeling stuck, frustrated, and discouraged.
Instead, learn how to embrace the cyclical, organic nature of growth. Harness the power of iteration to generate unstoppable moment and to give the business development process structure while maintaining flexibility and sustainability.
The Spiral Business Development approach is based on proven engineering design practice used to develop the most cutting edge technologies on the planet. Put it to work for your business to jump start your confidence, focus, and clarity.
Come and Learn
​How use a proven design paradigm to move their business forward
The one simple key to knowing what to do next with confidence and clarity
A structured process to build and test product and service offerings while generating revenue immediately
The quick two step planning system to keep their business dynamic and flexible
DaVinci Institute
DaVinci Institute
9191 Sheridan Blvd, Suite 300, Westminster, CO 80031
Park in an available spot. Find DaVinci Institute is on the third floor. Follow signs to the meeting room.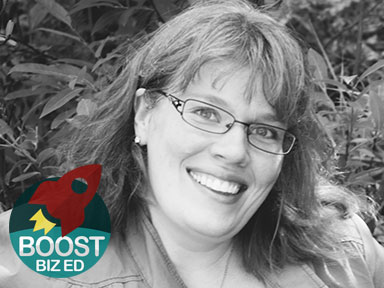 Amy Simpkins – Vision Architect
About Amy
Amy Simpkins is an international speaker, entrepreneurship coach, and vision architect. As an MIT-trained engineer, she architected complex missions to outer space. Now she's applying that proven technical knowledge and big-picture mindset to help you shift your business from POSSIBLE to PROFITABLE. She helps her clients craft clear, big-picture visions and then use an iterative implementation approach to make those visions reality, creating revenue and unstoppable momentum along the way.
Amy holds a Bachelor of Science degree in Aeronautics and Astronautics from Massachusetts Institute of Technology (MIT) and a Master of Science degree in Astronautical Engineering from the University of Southern California.
@/amylsimpkins
Latest Tweets
Sorry, that page does not exist.
Help Small Biz in Westminster Rise Action by Action!
Please Help Us Promote This Workshop and All Boost Biz Ed Westminster Events
Share on

All other favorite social channels
Forward our emails to business colleagues.