The Power of Dynamic Presence
How to Create Energy that Will Attract More Clients
Thu, Jan 4, 2018 | 9:30 – 11am MT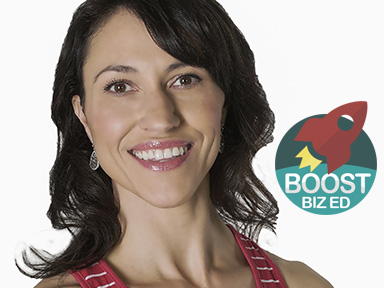 What is Boost Biz Ed?
Boost Biz Ed is both a networking event and educational event inspired the conviction that small business has the unique opportunity to change the world.
Boost Biz Ed fuels world changers by tapping proven business experts, drawing out transformative insights, and presenting them in a format for easy consumption and intention for immediate action.
How is this event special?
Event Decription
Your level of presence affects how others see you, and ultimately how you build your business. Presence determines whether your business will grow in the right direction or grow at all. Author, International Speaker, Social Scientist and Coach, Lila Gonzalez argues that "dynamic presence" — living from a place of grounded movement , even though you've been told to be still — will boost the revenue and success of your business and give you an opportunity to make more impact in the world.
How will I be empowered to action?
Action Points
How to sit while working
How to stand while networking
How to powerfully walk into any room
Where is this event?
Boost Biz Ed DTC is generously hosted by
7600 Eastman Ave. Room 381
,
Denver
,
CO
80231
Boost Biz Ed
Argosy University – Denver
Argosy University – Denver
7600 Eastman Ave. Room 381, Denver, CO 80231
Third floor, room 381, Free Parking!