The Link Between Process & Productivity
Wed, Sep 13, 2017 | 9:30 – 11am
Description
Do you feel like everyday is Groundhog Day in your business, constantly repeating the same simple tasks that suck up all your time and get you no closer to reaching your goals?
Successful businesses have solid processes, systems and workflows in place that allow them to operate consistently and seamlessly. Through developing and implementing solid processes, your time and energy is freed up for what really matters.
Come and Learn
Learn the benefits of creating standardized processes for your business
Complete a business systems assessment to identify current gaps
Use my 10-step approach to document a replicable process
Create a business that operates consistently and seamlessly, even when you're away
Free up time and energy for what matters most
DaVinci Institute
DaVinci Institute
9191 Sheridan Blvd, Suite 300, Westminster, CO 80031
Park in an available spot. Find DaVinci Institute is on the third floor. Follow signs to the meeting room.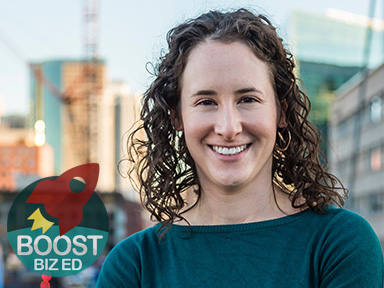 Simpler Surroundings, LLC
About Sarah
Sarah Krivel is a sought-after productivity consultant, speaker and trainer to small businesses and nonprofits. With her guidance and partnership, professionals, business owners and nonprofit organizations maximize their success by improving their processes and efficiency.
Through observation and questioning, Sarah connects dots and reframes ideas in unique ways, identifying inefficiencies and process lapses. She thrives on creative problem solving with original solutions, helping clients tackle their challenges with productivity, reach their potential and accomplish their goals.
Sarah first applied her talents to Fortune 500 companies, working in Marketing and Operations. Her work focused on systems design, process development, new program implementation and cross-functional team communications and change management.
Sarah saw first-hand that organized and streamlined operations lead to success in achieving goals and freeing up time and energy for what matters most. Desiring a greater impact than she could have from within the corporate sector, she created Simpler Surroundings.
Sarah speaks to audiences about accountability, aligning time with priorities to achieve goals, business organization, developing and implementing processes that stick, managing distraction in the modern age and much more.
The impact of her work is profound. For the first time, growth and scalability are possible for the clients she works with. Business owners and executive directors find peace, aligning their time and energy in the ways that matter most. They and their teams get infinitely closer to realizing their potential. She affects positive change in the organizations she works with, impacting the bottom line by helping organizations reclaim, on average, 200 hours a year.
También, se habla español. In addition to being a productivity consultant, she is also a world traveler, yogi, avid reader, volunteer and lover of the great outdoors.
@simplrsurndings
Latest Tweets
If you're not tapping into intrinsic motivation, you're simply not getting the best from the people that work for...
https://t.co/IzlTzkCSJx
&nbsp
Learn how to prioritize your tasks and manage your schedule to make the most of your time at next Thursday's...
https://t.co/nM7y0oNNlh
&nbsp
Help Small Biz in Westminster Rise Action by Action!
Please Help Us Promote This Workshop and All Boost Biz Ed Westminster Events
Share on

All other favorite social channels
Forward our emails to business colleagues.